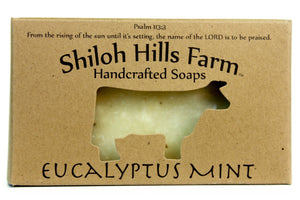 Eucalyptus Mint Soap
An exhilarating bar with eucalyptus and spearmint essential oils!
In the deep heart of the Ozark Mountains, Lauren and Macy are working on their last batch of soap. While making it, they remind themselves of the beginning of their adventure about 10 years ago. They started making soap for the family, but they soon realized the world had to know the wonderful formula made with Dexter Cows Milk. The farm fresh cow milk gives the soap a rich creamy lather. Palm oil, coconut oil and olive oil comprise the base of the soap, and shea butter is added to moisturize the skin. Beeswax keeps the soap bar hard and long lasting. All of their products are made with hard work, character, love, and ingredients you can pronounce, and best of all, they smell amazing!